Today I return to Ahtletics - track. The question is:
Who will win the Women's 10000 m event?
This race may be a new confrontation between Kenya and Ethiopia. Vivian Cheruiyot is the Daegu 2011 World Champion and will be taking the start at this race along with her compatriots Joyce Chepkirui and Sally Kipyego, the runner-up at Daegu. Cheruiyot won with a PB of 30'48.98". The third and fourth ones were another Kenyan athletes.
At first look, it's a Kenyan business, but Ethiopia sends the current Olympic champion, Tirunesh Dibaba (photo). She will try to defend her Beijing 2008 Olympic titles at 10000 and 5000 m. Since 2009 she was injured and returned to Athletics at the highest level only in 2012. Her teammates will be Werknesh Kidane and Beleynesh Oljira.
It may be worth mentioning the Portuguese long distance runner Ana Dulce Felix, our current European Champion (31'44.75").
My answer for today is:
Sally Kipyego
. I don't think the team strategy of Kenya is to establish from the beginning who of the 3 has to win, but anyway Kipyego looks to me as the winner of this race. It's hard to choose Dibaba because she was injured for some time and the other participants (except of the other 2 Kenyans) don't seem to be at the Gold medal level.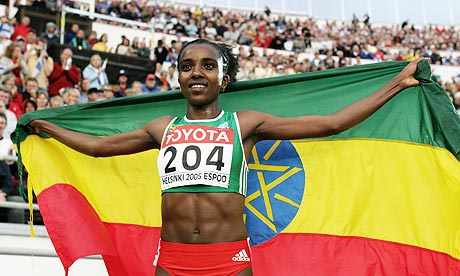 Final
: Friday, 03.08, 9:25 PM GMT